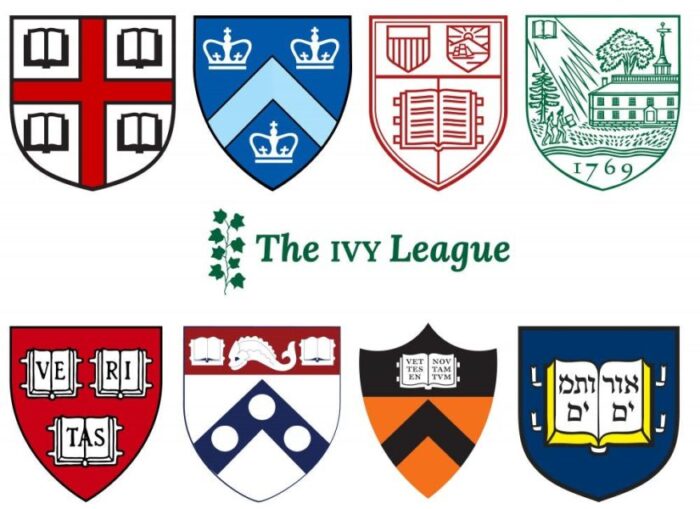 The Ivy League is an American collegiate athletic conference comprising sports teams from eight private universities in the Northeastern United States. Ivy League Schools are the most sought-after institutions of higher learning in the US and around the world. They are 8 private schools in the North-East of United States, these schools are known for their highly selective admissions processes, academic excellence and promising career opportunities for their graduates. Their names, recognition and social prestige are fabulous.
The eight members are Brown University, Columbia University, Cornell University, Dartmouth College, Harvard University, University of Pennsylvania, Princeton University, and Yale University. 
What are IVY league schools? Find out the meaning, tuition fees, rankings, history, qualifications and how to be a student of the Ivy league schools.
More About Ivy League
First grouped together by athletic conference, Ivy League schools have been known to churn out not only well-rounded student-athletes, but future presidents, Nobel Prize winners and other high-achieving graduates. The list of Ivy League schools includes some of the oldest institutions in education, with well-respected professors, ample research grants and generous financial aid resources. To make it to the halls of Harvard, Princeton, Columbia and the like, prospective students' applications must be extraordinary.
Helpful Articles
Ivy League schools ranking based on U.S. News' National University ranks; see how these schools stack up against each other
List of the Ivy League Schools
| NAME | | LOCATION | | NATIONAL UNIVERSITY RANKING |
| --- | --- | --- | --- | --- |
| | | | | |
| Princeton University | | Princeton, NJ | | 1 |
| Harvard University | | Cambridge, MA | | 2 |
| Columbia University | | New York, NY | | 3 (tie) |
| Yale University | | New Haven, CT | | 3 (tie) |
| University of Pennsylvania | | Philadelphia, PA | | 6 |
| Dartmouth College | | Hanover, NH | | 12 (tie) |
| Brown University | | Providence, RI | | 14 |
| Cornell University | | Ithaca, NY | | 17 (tie) |
Review of Listed Ivy League Schools
Princeton University
ACCEPTANCE RATE
6%
Princeton University, established more than 270 years ago, is the fourth-oldest college in the country. A world-renowned research university, Princeton is No. 1 in our National Universities ranking. Princeton offers first-rate academic resources, from specialized libraries to state-of-the-art laboratories and even an art museum on campus. More than 100,000 works reside in the collections at the Princeton University Art Museum.
The most popular majors at Princeton University include social sciences; engineering; computer and information sciences and support services; biological and biomedical sciences; and public administration and social service professions. With a 5-to-1 student-faculty ratio, the university allows students to benefit from small class sizes and one-on-one advising relationships. The institution also has one of the highest four-year graduation rates in the nation. Home to Rhodes scholars and high-achieving students, Princeton has educated past U.S. presidents, Supreme Court justices, Olympic medalists and Nobel Prize winners.
Harvard University
Founded in 1636, Harvard University is the oldest institution of higher education in the U.S. and one of the most selective in the Ivy League. The university lands at No. 2 in our National Universities ranking. As a private research institution, Harvard has more than 100 research centers on campus. Harvard includes 13 schools and institutes, including the top-ranked U.S. medical school and highly ranked business, graduate education, engineering and law schools, as well as the John F. Kennedy School of Government.
The university claims to have one of the highest freshman retention rates in the nation. Students can access more than 445 extracurricular, curricular and athletic organizations, in addition to academics. Harvard's extensive library system houses the oldest national collection and the largest private collection worldwide. Committed to sustainability, Harvard offers green living programs for undergraduates, graduates and community members.
Columbia University
ACCEPTANCE RATE
7%
Located on the Upper West Side of Manhattan, Columbia University is the oldest institution of higher education in the state of New York. Columbia is the birthplace of many significant technologies and platforms, including FM radio, the nation's oldest literary magazine, the first black student advocacy group on a multiracial campus and the first college gay rights advocacy group. The university is made up of three undergraduate schools: Columbia College, the Fu Foundation School of Engineering and Applied Science, and the School of General Studies. Highly ranked graduate and professional schools include the business and law schools, the Teachers College, and the Vagelos College of Physicians and Surgeons. Columbia boasts one of the most diverse student bodies in the country and in 1953 was the first university to enroll 1,000 international students.
The university emphasizes research and teaching on global issues to create cross-cultural academic relationships. Columbia has nine global centers that create opportunities in research, scholarship, teaching and service around the world. Students can access many academic resources on campus, including 22 libraries; more than 200 research institutes, centers and laboratories; thousands of internships offered through the Center for Career Education; and the Lamont-Doherty Earth Observatory. Columbia guarantees housing for up to four years, and more than 90% of undergraduates live on campus. The campusajor has appeared in many films, such as the "Spider-Man" franchise, which includes scenes filmed in Havemeyer Hall.
Yale University
ACCEPTANCE RATE
7%
Yale University is known for its drama and music programs at the well-regarded Yale School of Drama. In addition to Yale College and Yale Graduate School of Arts and Sciences, the university has 12 professional schools, including the country's top-ranked law school and highly ranked schools of medicine, management, art and nursing. Undergraduate students at this research institution have made strides in many fields, discovering new species and patenting products. Students can take advantage of global learning opportunities, from studying abroad to embarking on international internships and directed research.
The most popular majors at Yale include social sciences; biological and biomedical sciences; history; mathematics and statistics; and engineering. The university claims many firsts: For example, it was the first university in the U.S. to award doctoral degrees, and the Yale School of Public Health is one of the first of its kind. Lastly, the Whitney and Betty MacMillan Center for International and Area Studies focuses on teaching and research on international affairs, societies and cultures around the world, and it enables students to conduct research abroad.
University of Pennsylvania
ACCEPTANCE RATE
9%
Founded in part by Benjamin Franklin, the University of Pennsylvania offers a mixture of world-class liberal arts coursework and pre-professional education. Penn has the most international students of all the Ivy League schools: Of the undergraduate and graduate population, 13% of students are international and come from more than 100 countries. Also, more than 2,500 students each year participate in international study programs offered in more than 50 countries worldwide.
Penn's highly ranked graduate schools include the Wharton School, the School of Engineering and Applied Science, the Perelman School of Medicine, and the education and law schools. Penn's other notable graduate schools include the Stuart Weitzman School of Design and the School of Dental Medicine. The School of Engineering and Applied Science offers acclaimed faculty, state-of-the-art research laboratories and interdisciplinary curricula. Penn has more than 300 student groups spanning political action efforts, performing arts, sports clubs and student publications.
Dartmouth College
ACCEPTANCE RATE
10%
Dartmouth College is the birthplace of the programming language BASIC, which gave way to other computing innovations. The college includes the highly ranked Tuck School of Business, which houses the world's first graduate school of management, as well as Thayer School of Engineering and Geisel School of Medicine. Dartmouth established one of the first Native American programs in the country to begin actively recruiting students and has more Native American graduates among its alumni than any other Ivy League institution.
The college has more than 50 research-focused centers, institutes and groups in areas ranging from medicine and the arts to engineering and business. With a 7-to-1 student-faculty ratio and more than 60% of classes with fewer than 20 students, Dartmouth allows students to learn in an intimate setting. More than 50% of students study through off-campus programs for an immersive, global and hands-on education that doesn't interrupt their academic plan. The college is also ranked No. 2 in our Best Colleges for Veterans ranking.
Brown University
ACCEPTANCE RATE
8%
Brown University, a private research institution, embraces an open curriculum to allow students to design a personalized course of study while becoming creative thinkers and intellectual risk-takers. This open academic program for undergraduates comprises rigorous multidisciplinary study in more than 80 concentrations, such as egyptology and assyriology; cognitive neuroscience; and business, entrepreneurship and organizations.
Its highly competitive program in liberal medical education allows students to complete an undergraduate degree and a medical degree in a single eight-year program. Six libraries specialize in subjects such as the sciences and music. The Brown University Library holds more than 250 special collections, each home to rare primary research materials. Undergraduates have more than 500 clubs and organizations to choose from, and all first-year students live on campus.
Cornell University
ACCEPTANCE RATE
13%
Founded in 1865 and the youngest Ivy League school, Cornell University has a mission to discover, preserve and disseminate knowledge, to produce creative work, and to promote a culture of broad inquiry throughout and beyond the Cornell community. Each of Cornell's seven undergraduate colleges and schools admits its own students and provides its own faculty, even though every graduate receives a degree from Cornell University.
Cornell's two largest undergraduate colleges are the College of Arts and Sciences and the College of Agriculture and Life Sciences. Graduate schools include the highly ranked Cornell SC Johnson College of Business, Weill Cornell Medical College, College of Engineering and Law School. Cornell is also known for its top-ranked College of Veterinary Medicine and esteemed School of Hotel Administration. Cornell offers more than 100 fields of study and has campuses in Ithaca, New York; New York City; Geneva, New York; and Doha, Qatar.
Ivy League  History
Most historians agree that Caswell Adams coined the term in a 1937 article. He was writing about the Columbia/UPenn football game, and, supposedly upset at not being allowed to cover his alma mater, complained about the old "Ivy-covered" universities, leading him to call them the "Ivy League." The name stuck, and in 1945 the Ivy Group Agreement—concerning academic standards and football scheduling—was signed by the eight schools. Another agreement signed in 1954 included all the other sports.
Another theory is that Princeton, Yale, Harvard, and another school (usually Dartmouth or Columbia, depending on who you talk to) had set up a conference of sorts called the "Four League," only written in Roman numerals as "IV League." People would say "Ivy League" instead of "Four League." It's not the favored story, but it is an interesting look at how colloquialism can change language.
If you've watched most movies about American college life, a large majority of them take place in a big-name, elite university. Animal House, Legally Blonde, A Beautiful Mind, Good Will Hunting—all showcase the strange parties and characters that exist within the walls of these highly respected institutions.
These prestigious and highly selective universities are often grouped under the term 'Ivy League', and their history is quite interesting and important to American higher education. If you are considering applying to a Master's in the United States, here are some essential things you need to know about these Ivy League Schools.
Why Should I Care about the Ivy League Universities?
When you're beginning your search for undergraduate and graduate degrees, these universities are likely to be the first to attract your attention, for many reasons.
Firstly, they use a lot of resources to attract smart, hard-working, and career-minded students—like you–from all over the world. Secondly, it's no secret that these schools strongly help students in their professional careers. Looking to several fields, extending from Law and Medicine, to Electrical Engineering and Business, the Ivy League universities truly dominate these categories. Getting a degree from these schools will open a lot of doors for you in the future.
Tuition Fees for Ivy League Schools
These schools also tend to be among the most expensive schools in the U.S., with tuition rates averaging between $55,000 and $60,000 per year. Luckily, they also offer great financial aid in the form of scholarships for their best students. You might be one of them!
What Qualifies You to be an Ivy League Student – Know Before You Apply
The admission process for these elite schools is highly competitive; you'll need to achieve standards that are much higher than the ones at any average public university. For instance, the admission rates in 2019 were under 20%.
Remember to check the admission requirements carefully, including test scores (SAT, GRE, LSAT, GPA), recommendations, extra-curricular activities, and other academic achievements. They matter!
You should keep in mind, though, that there are thousands of higher education institutions in the U.S., and several of them score high in university rankings while having lower tuition costs. This is why, when searching for universities, you should really seek the perfect fit that suits your personal needs.
Note; If you dream of running a major corporation, holding public office in government, or gaining a strong advantage in research and innovation, the Ivy League is probably the best option. To apply scroll up and click on any of the Ivy schools' link to take you to the official website.